Akzo Nobel (OTCMKTS:AKZOY) posted its earnings results on Wednesday, April 24th. The basic materials company reported $0.18 earnings per share for the quarter, missing the Thomson Reuters' consensus estimate of $0.19 by ($0.01), Morningstar.com reports. The firm had revenue of $2.48 billion during the quarter. Akzo Nobel had a net margin of 9.76% and a return on equity of 9.43%.
Shares of OTCMKTS AKZOY opened at $28.44 on Friday. Akzo Nobel has a 12-month low of $25.61 and a 12-month high of $33.00. The firm has a market capitalization of $19.55 billion, a P/E ratio of 26.71, a P/E/G ratio of 7.76 and a beta of 0.69. The company has a debt-to-equity ratio of 0.35, a current ratio of 1.46 and a quick ratio of 1.28.
AKZOY has been the topic of a number of recent analyst reports. Goldman Sachs Group reissued a "buy" rating on shares of Akzo Nobel in a research note on Monday, March 25th. ABN Amro downgraded Akzo Nobel from a "buy" rating to a "hold" rating in a report on Monday, April 8th. Finally, Zacks Investment Research upgraded Akzo Nobel from a "strong sell" rating to a "hold" rating in a report on Tuesday, April 16th. One research analyst has rated the stock with a sell rating, one has given a hold rating and six have given a buy rating to the stock. The stock presently has an average rating of "Buy" and an average target price of $32.00.
ILLEGAL ACTIVITY WARNING: "Akzo Nobel (OTCMKTS:AKZOY) Posts Earnings Results, Misses Expectations By $0.01 EPS" was first published by Mayfield Recorder and is the property of of Mayfield Recorder. If you are accessing this story on another website, it was illegally copied and reposted in violation of United States and international copyright law. The original version of this story can be viewed at https://mayfieldrecorder.com/2019/05/18/akzo-nobel-akzoy-posts-quarterly-earnings-results-misses-expectations-by-0-01-eps.html.
Akzo Nobel Company Profile
Akzo Nobel N.V. operates as a paints and coatings company worldwide. The company offers decorative paints, including paints, lacquers, and varnishes; a range of mixing machines and color concepts for the building and renovation industry; and specialty coatings for metal, wood, and other building materials primarily under the Dulux, Coral, Levis, and Flexa brands.
Read More: 52-Week High/Low Prices For Stock Selection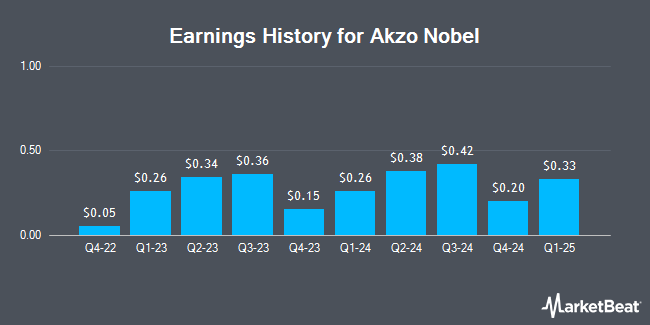 Receive News & Ratings for Akzo Nobel Daily - Enter your email address below to receive a concise daily summary of the latest news and analysts' ratings for Akzo Nobel and related companies with MarketBeat.com's FREE daily email newsletter.