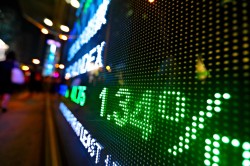 Buderim Group Ltd (ASX:BUG)'s stock price fell 7.7% during trading on Tuesday . The stock traded as low as A$0.18 ($0.13) and last traded at A$0.18 ($0.13). 10,000 shares changed hands during trading, an increase of ∞ from the average session volume of 0 shares. The stock had previously closed at A$0.20 ($0.14).
The stock's 50 day moving average is A$0.19. The stock has a market capitalization of $15.48 million and a P/E ratio of -1.16. The company has a debt-to-equity ratio of 49.17, a quick ratio of 0.62 and a current ratio of 1.94.
Buderim Group Company Profile (ASX:BUG)
Buderim Group Limited, together with its subsidiaries, manufactures and distributes confectionery ginger and other ginger-based products to industrial, food service, and retail customers worldwide. It operates through Ginger, Macadamias, and Tourism segments. The company also engages in the processing, production, and marketing of macadamia products to wholesale and retail customers.
See Also: What is a stock split?

Receive News & Ratings for Buderim Group Daily - Enter your email address below to receive a concise daily summary of the latest news and analysts' ratings for Buderim Group and related companies with MarketBeat.com's FREE daily email newsletter.