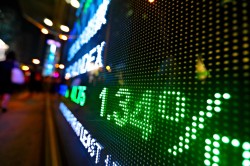 Energean Oil & Gas PLC (LON:ENOG)'s share price hit a new 52-week high during mid-day trading on Wednesday . The stock traded as high as GBX 1,008 ($13.17) and last traded at GBX 1,008 ($13.17), with a volume of 243393 shares traded. The stock had previously closed at GBX 1,000 ($13.07).
ENOG has been the subject of a number of analyst reports. Peel Hunt initiated coverage on shares of Energean Oil & Gas in a research report on Thursday, March 14th. They issued a "buy" rating and a GBX 850 ($11.11) price objective for the company. Royal Bank of Canada reissued an "outperform" rating and issued a GBX 900 ($11.76) price objective on shares of Energean Oil & Gas in a research report on Monday, April 15th.
The company has a quick ratio of 0.64, a current ratio of 0.68 and a debt-to-equity ratio of 13.26. The business's 50-day moving average price is GBX 836.86. The stock has a market capitalization of $1.54 billion and a P/E ratio of 12.68.
About Energean Oil & Gas
(
LON:ENOG
)
Energean Oil & Gas plc operates as an independent oil and gas exploration and production company. The company focuses on the exploration, development, and production of oil and gas. It operates through five segments: Greece, Israel, Egypt, Montenegro, and New Ventures. The company holds 13 licenses in the Eastern Mediterranean.
Recommended Story: How Do You Make Money With Penny Stocks?
Receive News & Ratings for Energean Oil & Gas Daily - Enter your email address below to receive a concise daily summary of the latest news and analysts' ratings for Energean Oil & Gas and related companies with MarketBeat.com's FREE daily email newsletter.